Implementation Stages
The Inquiry recommendations will be delivered in three stages aligned with major milestones as the industry develops.
Stage One - Planning
Stage One outlined the tasks following the lifting of the moratorium.
It covered setting up the governance arrangements for implementation, establishing the Onshore Shale Gas Community and Business Reference Group and starting work on some of the major reform areas.
The Implementation Plan is the major milestone achieved in Stage One.
Stage Two - Preparing for Exploration
Stage Two comprises implementing the recommendations that need to be done early including those that the Inquiry determined must be complete before any exploration involving drilling or hydraulic fracturing and stimulation of unconventional wells.
The recommendations summarised in table 16.1 of the report are:
Codes of Practice for industry
transfer of environmental decisions regarding petroleum from the Minister for Primary Industry and Resources to the Minister for Environment and Natural Resources
baseline mapping and ongoing monitoring regimes for weeds, methane emissions and water quality near proposed drilling sites
commencement of a broader Strategic Regional Environmental and Baseline Assessment (SREBA).
The recommendations outlined in table 16.1 are required to be in place before exploration recommences, and are on track to be completed in the 2019 Dry Season.
Stage Three – Exploration and Preparing for Production
Stage Three covers the balance of the Inquiry recommendations and will take a number of years to complete.
Stage Three must be completed before any production approvals are granted for unconventional gas.
Many Stage Three actions are still in planning, however some have already commenced. You can track implementation progress of all 135 recommendations from the Inquiry
Key milestones in each implementation stage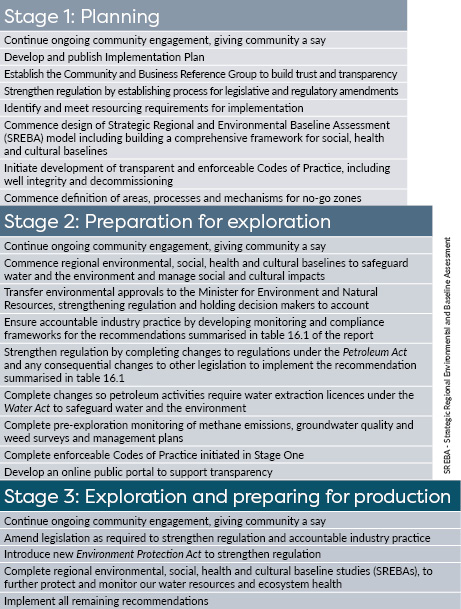 ---
Last Updated:
17 Feb 2022